PRIME [the blog] - www.intheprimeblog.blogspot.comEdit
official blog page [1]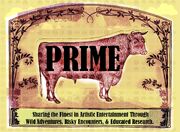 This blog was started by two artist pioneers in Atlanta on December 16, 2009.
PRIME is based on the idea that everything should be experienced in it's prime.
Prime has a [Fan Page] that provides advice and insight through discussions where industry professionals (tour managers, artists, producers, engineers,etc) actively talk about different aspects of music and the music business.
Prime has a private studio space set up for interviews and acoustic sets.
The blog features exclusive indie videos, reviews, photos, show highlights, and other forms of entertainment where music is also incorporated.
Ad blocker interference detected!
Wikia is a free-to-use site that makes money from advertising. We have a modified experience for viewers using ad blockers

Wikia is not accessible if you've made further modifications. Remove the custom ad blocker rule(s) and the page will load as expected.