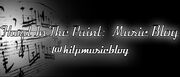 HARD IN THE PAINT: MUSIC BLOG: Based out of Boston, Massachusetts, Hard In The Paint: Music Blog is a site that is focused on displaying and promoting the work of fresh, up and coming music talent through the posting of biographies, music, videos, reviews, interviews and more. By communicating directly with music talent, original features are created. The ultimate goal of the blog is to create a central platform for music talent to get exposure and keep their following updated with their latest work.
www.hardnthepaint.wordpress.com
@hitpmusicblog
Ad blocker interference detected!
Wikia is a free-to-use site that makes money from advertising. We have a modified experience for viewers using ad blockers

Wikia is not accessible if you've made further modifications. Remove the custom ad blocker rule(s) and the page will load as expected.