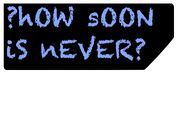 ?hOWsOONiSnEVER? is a music blog named after The Smiths song How Soon Is Now and was created to provide up to date news and reviews of the latest music across many genres from Indie to Pop and Hip-Hop to Dubstep. The blog is updated daily with single and album reviews, previews of unreleased material, views and analysis of the latest stories and music phenomena along with info on the newest acts you may or may not have heard of.
Ad blocker interference detected!
Wikia is a free-to-use site that makes money from advertising. We have a modified experience for viewers using ad blockers

Wikia is not accessible if you've made further modifications. Remove the custom ad blocker rule(s) and the page will load as expected.